245 Hammersmith is big on changing the game. A first for its location, 242,000 sq ft of smarter, bigger, brighter space built to meet the needs of today's occupier. We've put sustainability at its heart, setting new standards for Hammersmith along the way. With built-in retail, built-in Wi-Fi, a large lobby space and occupier-only terraces, all surrounded by a Public Plaza and Park.
This is an exciting new destination
The beating
heart of
Hammersmith
As the largest development here for 25 years we attract all kinds of brilliance, and everyone is welcome.
In a destination primed for change, we're the building that makes everything bolder. Setting new standards for West London there's enough office space for up to 2,400 people. Then, there's event space, flexible co-working spaces, and an Urban Park so large it could fit 150 red London buses in.
An intelligent building designed to maximise daylight & flexible working opportunities
A brilliant new public realm, including an urban park large enough space to fit almost 2 football pitches
A blank canvas
for all types of business
Our typical floorplates are anything but — 27,000 sq ft is Hammersmith's largest – supersized for maximum flexibility and adaptability. Sustainable and energy-efficient offices means your business has the edge, by keeping running costs down. Big to us also means generous, with the hotel-style service we're bringing to West London.
Active, efficient and totally customisable, enjoy the flexibility to open floors, split spaces, create reception areas and connect floors seamlessly.
A responsive environment that nurtures well-being
We don't just do good, we do better. Expect more than bike space, showers, and changing facilities – we've got all of those. We know that with fresh air and responsive environments, we're helping make people feel good.
The striking architectural windows let the light flood in as we know that natural light enhances moods and increases productivity levels. There's collaborative working spaces to inspire the big thinkers, and there's space to quiet the mind, in calming landscaped gardens and on the roof terraces of our upper floors.
Our big red architectural frames don't just look beautiful, they shade and cool, while maximising daylight and are double-glazed for comfort
Smart sensors ensure everyone gets looked after with fresher air and better temperature control wherever you are in the building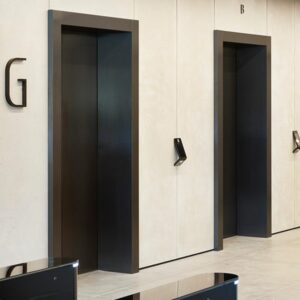 No waiting around – intelligent lift systems control the people flow using the hall call allocation (HCA) control system
Flexibility and control in everything from the services to the space – dual-circuit risers allow for flexible service options
For the cyclists, runners, and gym goers, there are 15 showers on the Lower Ground level
150 sq m of photovoltaic cells on the roof to create an even more sustainable building
Connected inside and out
To help you get more from life at 245 Hammersmith, we've designed the My245hammersmith occupier portal. Accessible via a user-friendly mobile app, it features news about concierge services, amenities and events, as well as all the operational information you need. A newsletter and dedicated Twitter feed are also in place to share updates within our community.